The doctrine of precedent is the fundamental basis of the law applied by the judiciary, which specifies that a court should apply the rulings of previous cases in situations where the facts are the same. More specifically, a court is bound to do so if the previous case was tried in a higher court, in the same hierarchy.
The doctrine of precedent is very simply broken into two parts:
Like cases should be decided in the same way unless there is some reason to vary a previous court's decision;

Court hierarchical structure (as reproduced in the TimeBase diagram below) determines which courts' decisions are most important or bind the court below it in the hierarchy.
There are also two important parts to a judicial decision:
The ratio decidendi – or decision of the case which is the ruling on the point of law and binding in the doctrine of precedent on courts lower in the court hierarchy;

The obiter dicta – are the rest of the things said by the justices in the judgment and are not binding in the doctrine of precedent. They may, however, be regarded as persuasive in a future decision and the weight given to dicta usually depends on the seniority of the court and the eminence of the judge in question. The most persuasive weight is generally given to minority judgments in High Court Cases.
Catchwords usually encompass only the ratio decidendi of a case so it is important to read the whole case if it is relevant to the doctrine of precedent in case the obiter has persuasive authority.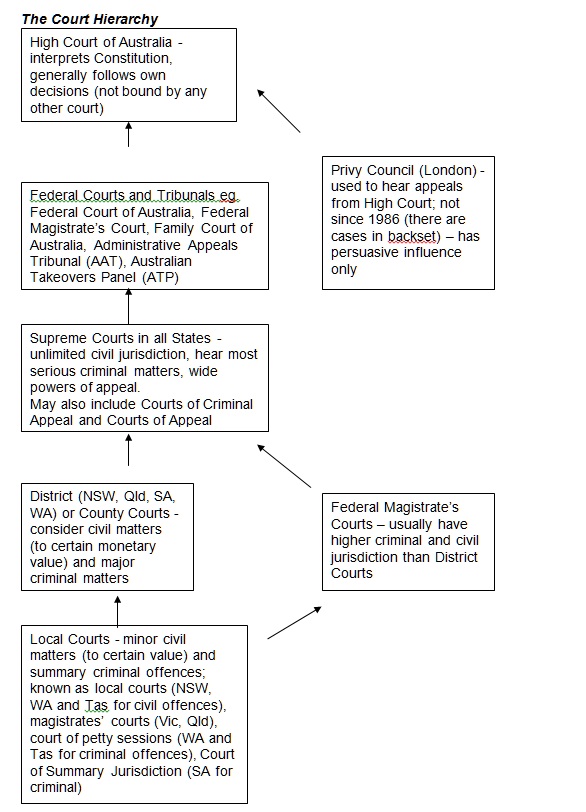 Superior or Federal Courts and Common Abbreviations
Administrative Appeals Tribunal (AATA)
Australian Industrial Relations Commission (AIRC)
Family Court of Australia (FamCA)
Federal Court of Australia (FCA)
Federal Magistrates Courts (FMCA)
High Court of Australia (HCA)
Common State Courts and their Abbreviations
New South Wales
New South Wales Supreme Court (NSWSC)
New South Wales Supreme Court of Appeal (NSWSCA)
New South Wales Supreme Court of Criminal Appeal (NSWCCA)
New South Wales Industrial Relations Commission (NSWIRC)
New South Wales Land and Environment Court (NSWLEC)
Victoria
Supreme Court of Victoria (VSC)
Victorian Supreme Court of Appeal (VSCA)
Australian Capital Territory
Australian Capital Territory Supreme Court (ACTSC)
Australian Capital Territory Supreme Court of Appeal (ACTSCA)
Northern Territory
Northern Territory Supreme Court (NTSC)
Queensland
Queensland Supreme Court (QSC)
Queensland Supreme Court of Appeal (QSCA)
South Australia
South Australia Supreme Court (SASC)
Tasmania
Tasmanian Supreme Court (TASSC)
Western Australia
Western Australia State Administrative Tribunal (WASAT)
Western Australia Supreme Court (WASC)
Western Australian Supreme Court of Appeal (WASCA)