How do I find related materials in Point-in-Time?
There are three ways to access related materials in Point-in-Time Services:
1. From the Main Home Page
Related materials like Bills, second reading speeches, explanatory memoranda and other materials can be accessed via the home page of every service in the right hand menu.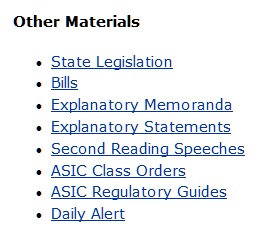 2. From the Left Hand Browse Menu
Related materials can be directly accessed through the left hand browse menu which replicates the headings in the "Other Materials" Menu on the Home Page.

3. Directly connected at Section Level
All amendments and related materials are directly connected at section level. If an amendment has given rise to a particular version of a section, all related materials connected to that amendment can be accessed through the "Related Materials" link.

For more information, see our Frequently Asked Questions.